April Foolin' Around: Part 3 is the 15th episode of
Season 2
of
Baby Lamb & Friends
and the 46th episode overall. It is also the third and penultimate part of the 4-part April Fools Special. It was posted on April 3, 2017.
Summary
Baby Lamb and all of his friends continue to get into strange and unusual situations as the April Fools trip continues.
Plot
Baby Lamb, Cow, and Ricky suddenly end up in the very first episode of the show, dressed as The Powerpuff Girls, with Donny fulfilling the role as the Narrator because he doesn't have a role in the first episode. Next, Alphabet Pal and Belle are presenting the Nickelodeon Kids Choice Awards (calling it Kids Choice Oscars). The Creator, being the Host, is about to announce the winner for favorite cartoon. But he first talks about the time he accused someone of stealing something from him until he found it in his drawer, as well as a cookie. After that, it turns out that SpongeBob SquarePants is the winner, once again, as The Creator sarcastically says "yay". However, he found out there has been a mistake and the actual winner for favorite cartoon is The Loud House! The audience applauds and The Creator celebrates. But he stops to remind everyone that he respects SpongeBob SquarePants and its work.
Freakazoid presents a shot of the busy freeway, which shows a truck crashing and exploding on the freeway, causing it to catch on fire. After that, Roger Rex transitions to see how everyone else is celebrating April Fools Day. A compilation of TV shows and cartoons that have April Fools-related episodes is shown as the song "The Joke is On You" plays. Finally, a clip from Foster's Home for Imaginary Friends is shown and All Star by Smash Mouth plays. 
Characters
Baby Lamb
Cow 
Ricky Bowers
Donny Dolphin (offscreen)
Alphabet Pal
Belle Butterfly
Roger Rex
The Creator
Trivia
The Kids Choice Oscars scene parodies the actual 2017 Oscars where the wrong winner was announced and another movie turned out to be the winner.
After The Creator praises The Loud House for winning and says that he respects SpongeBob SquarePants, he wishes the show's creator Stephen Hillenburg, a speedy recovery. This was because around the time this episode was produced, Stephen Hillenburg was diagnosed with ALS. Sadly, Hillenburg passed away from ALS complications on November 26, 2018.
When The Creator talks about the time he accused someone of stealing something, this was based on a real-life experience Simon had.
This episode is shown as the main plot in the Season 2 episode of Davon Ponder's series "James & Friends", titled "Reacting to April Foolin' Around Videos, Part 2".
The Episode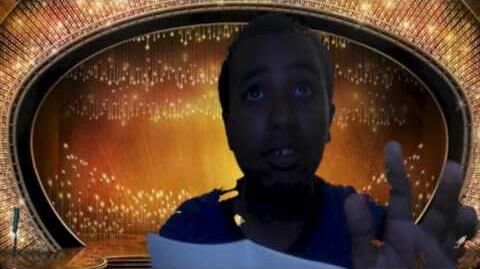 Community content is available under
CC-BY-SA
unless otherwise noted.