This article is about the web series. You may be looking for the actor.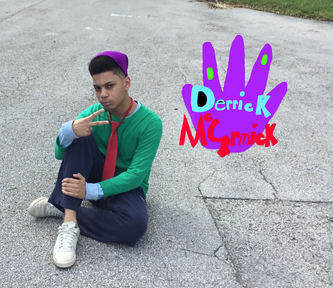 Derrick McCormick is an American live-action variety sketch show created by Derrick Uno McCormick and produced by UNODASH !!! for YouTube. The series has been around ever since June 22, 2016, and it's slated that new episodes and seasons will air up until 2026.
A teenage boy named Derrick introduces the viewer into his room and a insane world of craziness. Derrick talks about random topics and he does a lot of random things in his room and his household. The series is filled with random live action skits, animation segments, and lots more. An example being "ICUP's Universe". A few minute long animated segment that is shown at the end the show featuring the Derrick McCormick character, ICUP the Bear.
The inspiration for the series was McCormick's love of mixing fiction with reality, watching cartoons and variety sketch shows, and live action sitcoms. McCormick wanted to do a show combing all of those elements that he liked, his way. While in between the show, they'll be a human title character inserted in to be the star of the show. The human character will speak to the viewer about random topics, the adventures he'll have, and various things happening to him. Also giving that certain human character the real first, and last name of the actual creator himself. McCormick started production on the series in late September 2014, where he started making the show and filming the episodes. The show premiered on June 22, 2016. The first episode was titled "Happy Silly Dab".  This episode along with episodes two and three was twelve minutes long, instead of its ordinary fifteen or twenty-minute duration, this was due to Derrick's iPad Air 2 running out of storage and not accepting the longer video. This was fixed after episode three, "Groovin and Moovin", when episode four, "Yogurt Milk", lasted fifteen minutes long. This continued for the first season, until the second season where it was extended to twenty minutes long, which continued throughout the series.
Derrick McCormick was designed to entertain all audiences, despite sometimes certain episodes can push the envelope, and some people kinda see it as just a kid show. The series is known for its random and unexpected humor, which is a big staple to the show. Derrick McCormick, while being a comedic and zany show, does have its times where it goes into serious themes, such as death, depression, cancer, bullying, moving, divorce, homosexuality, drugs, 9/11, coronavirus etcetera. The series itself is never afraid to speak about serious and difficult themes that are happening to people, and also what the world has to deal with. This is due to McCormick wanting to have the courage to speak about things in life that are real, and not sugarcoat anything about it, just say it how it is cause it's life.
Derrick McCormick and Simon A. are close friends and occasionally the two would acknowledge each other's shows. Eventually, the two YouTube shows would combine in a special crossover film titled "Derrick McCormick & Friends".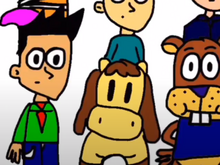 Derrick McCormick appeared in an animated form in the animated Baby Lamb & Friends short, "I'M BACK HOME, BROS!"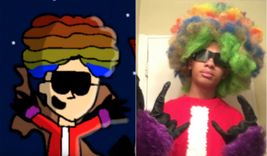 Derrick also appeared in the animated Halloween short "It's Halloween!" as his alter-ego Santa Clown. 
In the animated musical holiday short "The Best Christmas of All", Derrick McCormick made his first official animated speaking appearance. 
Derrick McCormick made a big appearance in the cold opening of Baby Lamb & Friends: The Movie, telling the story of the film's events.
In the Season 5 episode, "Quarantine Life", the characters are seen watching Derrick McCormick on TV and admiring it.
Baby Lamb & Friends on Derrick McCormick
Simon A. guest-starred in the Season 3 Derrick McCormick episode "Whodunnit?" as the Narrator and also as himself towards the end of the episode. 
Simon A. also appeared as his Baby Lamb & Friends characters in a series of shorts in the Season 3 finale of Derrick McCormick, "A Bunch of Shorts" (which eventually was released standalone as the Baby Lamb & Friends Season 4 episode "The Bovine of Seville"). Coincidentally, Cami J. Green (the voice of Belle Butterfly) appeared as herself in that same episode. 
In the Season 4 Derrick McCormick episode, "Derrick McCormick's COVID-19 Quarantine- Part 1: Social Distancing", the second half of the episode featured a parody of Baby Lamb & Friends where Derrick is a paper puppet (acting similar to Baby Lamb) and he interacts with a stuffed bear named Bear McMoo (a parody of Cow McMoo) and also some inanimate objects.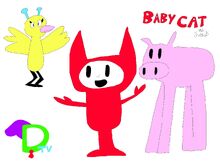 Season 4: Episode 26 of Derrick McCormick, "DTV", features a fictional afternoon programming lineup for Derrick's television network, DTV, and one of the programs listed was a show parodying Baby Lamb & Friends called Baby Cat & Friends ("the show that makes paper puppets worth it").  
Crossover
After years of acknowledging each other's shows, Baby Lamb & Friends and Derrick McCormick finally got an official crossover special in the 2020 crossover movie "Derrick McCormick & Friends", which was released on June 27, 2020.
The special features all the main characters from Baby Lamb & Friends and Derrick McCormick and combines the elements of both series, from Baby Lamb & Friends' use of original piano background music and paper puppets (and obligatory references to Mister Rogers and Mickey Mouse) to Derrick McCormick's combination of live-action and animation, improvised lines, and random in-between segments.
In the crossover, a horrible roach season is going on in Middleton, so Derrick has no choice but to temporarily move out of his apartment. Taking his pet bird Tommy with him, Derrick jumps into a dimension box that suddenly transports him to Capitol City, where he meets Baby Lamb and his friends. Soon, they all get to know each other and they get along very well. Little did Derrick know that Joshua, posing as his landlord, is out to get him. He finds Derrick's dimension box and uses it to get to Capitol City, where a sneaky guy gives him a mind control device which he uses to mind control some of the Capitol City residents to attack Baby Lamb and the gang while he attempts to kill Derrick. So Derrick calls the characters from "ICup's Universe", who also go to Capitol City to free Baby Lamb and the gang and also save Derrick. After an encounter with Mr. Landlord, Derrick's REAL landlord, it turns out that Joshua hated Derrick and Baby Lamb because they're so popular and well-liked, despite the fact that they're not rich and don't care about money. In the end, they manage to stop Joshua and he got his comeuppance while Mr. Landlord puts his son, Brendan, in charge of owning Derrick's apartment from now on. After a heartfelt goodbye, the DM characters head back to their own dimension. In an epilogue scene, Baby Lamb was making a gift for Derrick as a way to show him how much he cares about him, so he and Belle secretly head off to Middleton to give Derrick. He was surprised and touched.
The crossover special features Simon A. and Derrick McCormick reprising their roles from their respective shows, along with Cami J. Green, Marisa the Gem Fox, and Jaylynn Russell voicing their respective characters as well. Derrick McCormick edited and filmed the DM scenes at the beginning and end as well as dubbing his lines as his characters in the BLAF scenes while Simon A. edited the entirety of the crossover and filmed the BLAF scenes.
Community content is available under
CC-BY-SA
unless otherwise noted.