The Baby Lamb & Friends Halloween Special: Part 2 is the 18th episode of
Baby Lamb & Friends
'
first season
as well as the second part of the 5-part Halloween special. It was uploaded on October 28, 2016. 
Summary
As we continue this Halloween special, Bill and Mejax debate on whether or not the Great Pumpkin is real. Derek failed his first test of bravery, and the Dark Slayer seeks assistance from some other villains: a super intelligent chimp, a chef dressed up as the Ice King, a green character from a popular Christmas book, and the Spirit of Halloween. Or is he the Spirit of Halloween?
Plot
It's a rainy night as Halloween draws nearer and nearer and Bill and Mejax search for something supernatural to happen. Mejax begins to talk about the spirit of Halloween, the Great Pumpkin who comes to trick-or-treaters who have been good this year. Bill doesn't believe in The Great Pumpkin, so Mejax talks about a kid named Linus who thought he saw the Great Pumpkin but it turned out to be a dog dressed up as a fighter pilot. It increases Bill's disbelief in The Great Pumpkin and considers it a phony-baloney. Mejax doesn't want to hear it because if trick-or-treaters are good, they get lots of candy. Then, Mejax begins to sing a song all about The Great Pumpkin, who decides who deserves treats or tricks. Bill still doesn't believe in The Great Pumpkin.
Meanwhile, the Police Crew are dressed in costumes except for Derek, who's still afraid of Halloween. Suddenly, a strange man wearing a Squidward mask starts singing "Bloody Mary" in a chipmunk voice, scaring the daylights out of Derek and causing him to faint. Mark misinterprets that as napping on the job and angrily tells Derek to get back to work. 
The Dark Slayer visits a mysteriously dark place where some other evil characters such as Mojo Jojo, The Grinch, Trumpy the Gnome, and Frankson are in a meeting. They discuss how to scare people on Halloween night. Turns out they have invited the Spirit of Halloween, The Fright Night! He considers Halloween a time for all the villains to team up and spread evilness throughout Captiol City. All the villains prepare to make this a Halloween they'll never forget. 
Characters
Bill 
Mejax
Officer Mark
Officer Patricia
Officer Derek
Officer Aaron
Officer Marvin
Dark Slayer
The Grinch
Mojo Jojo
Frankson
Trumpy the Gnome
The Fright Knight
Songs
Trivia
Bill and Mejax are dressed up as Wirt and Greg from "Over the Garden Wall".
Aaron, Marvin, and Patricia return in their costumes previously worn in Summer Halloween.
When Bill talks about the Great Pumpkin, he references the scene from the TV special "It's the Great Pumpkin, Charlie Brown".
This is one of the rare episodes that Baby Lamb doesn't appear in, despite being the titular character.
The Episode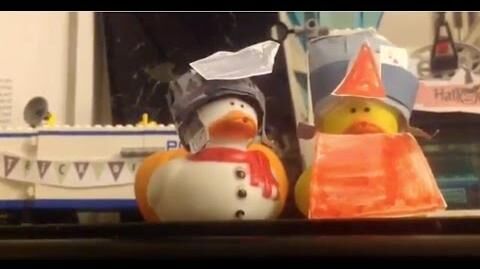 Community content is available under
CC-BY-SA
unless otherwise noted.