The Baby Lamb & Friends Halloween Special: Part 3 is the 18th episode of
Baby Lamb & Friends
'
first season
as well as the third part of the 5-part Halloween special. It was posted on October 29, 2016. 
Summary
As we have more continuation of the Baby Lamb and Friends Halloween special, the kids are out trick-or-treating on Halloween night. Only, when Halloween comes, there's always going to be a few surprises.
Plot
Halloween night has arrived and everyone is out trick-or-treating in their costumes. Ricky, Baby Lamb, and Cow debate on which costume will get them a lot of candy. Their first stop is at Homer Simpson's house, who teases their costumes and refuses to give them candy. Bill and Mejax join them as one of the PPG cosplayers is walking by and admires everyone's costumes except for Ricky. Eeyore, Pooh, Piglet, and Tigger, who get a lot of candy by dressing as themselves, join them. The bunch notice see a mysterious figure with wheels heading straight towards them, thinking that it's a Ghost Train. It turns out to be just Thomas the Tank Engine who was chuffing by. A guy dressed up as Minecraft Steve also passes by, but it turns out to be the actual Steve who doesn't know that it's Halloween.
The Winnie the Pooh characters leave as they notice someone handing out honey bars, Thomas leaves to deliver children to a Halloween party, Bill and Mejax leave to see something supernatural, and Roger Rex leaves because he doesn't want to be seen with them. Someone tells the gang to go home because there's no candy. Meanwhile, Mark and Derek are scanning the neighborhood for Halloween troublemakers and making sure the children are safe. Ricky figured that at this point adults are done giving out candy. Unexpectedly, everything went dark! Then a Mickey and Minnie jack-o-lantern turns on and a funky beat plays. Right away, the characters sing about Halloween and what's to expect on this spooky day. The episode ends with the Count Von Count reminding the viewers to stay tuned and find out what happens next. 
Characters
Baby Lamb
Cow
Ricky
Alphabet Pal
Donny
Bill
Mejax
Roger Rex
Homer Simpson
Mike
PPG Cosplayer
Minecraft Steve
Thomas the Tank Engine
Winnie the Pooh
Eeyore
Tigger
Piglet
Count Von Count
Songs
Trivia
Baby Lamb is shown in his Count Von Count costume for a brief moment during the "This is Halloween" song sequence. 
A clip from this episode (specifically, during the "This is Halloween" song) was shown in the Season 3 episode "Scared Rickless".
The Episode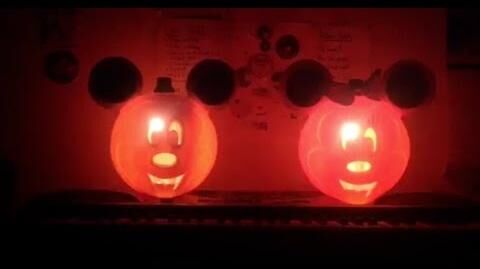 Community content is available under
CC-BY-SA
unless otherwise noted.