The Baby Lamb & Friends Holiday Special: Part 2 is the 26th episode of
Season 1
of
Baby Lamb & Friends
, uploaded on December 19, 2016. It is also the 2nd part of the 6-part Christmas Special.
Summary
As we continue, Mejax, Bill, Rover, and Steve are wondering what Christmas would be like if it was every single day. Everyone except Bill thought it would be awesome to have Christmas every day. Bill thinks that if Christmas was everyday, there wouldn't be any time to celebrate all the other special holidays.
Plot
Bill, Mejax, Rover, and Steve are sitting down on the snow-covered ground. Mejax and Rover wonder why Christmas has to be only once a year, since people wait all year for the best time of the year to happen then after that it's all over and they end up waiting another year until Christmas comes again. Bill explains that holidays are special because they happen at a specific time of the year. Even if Christmas is the greatest holiday of all, it still has to be once a year. But Mejax asks why there's a song where Christmas lasts for 12 days but Bill thinks the 12 days represent the 12 months of the year. 
Mejax wishes Christmas was every day, but Bill doesn't want him to think that as he brings up a the story of a monster named Elmo who wished Christmas was every day. It was fun at first but people are getting sick of it. Bill sympathizes with their wish for Christmas to last forever, but he tells them that if they celebrate Christmas every day they wouldn't have time to celebrate all the other holidays, even their birthdays. At the thought of not celebrating their birthday, they change their mind.
Meanwhile, Officer Marvin is busy bringing a Christmas tree inside the Police Station with the other members of the crew. They wish Chief Mark a Merry Christmas, but he acts like the holiday Scrooge and tells them to get rid of the tree so he can see the TV.  On top of that, he hates Christmas, so they call him a Scrooge. He doesn't know what a Scrooge is, so they talk to him about the story "A Christmas Carol" by Charles Dickens and about how Ebenezer Scrooge is greedy and hates Christmas until 3 ghosts helped him change his perspective. 
Characters
Bill
Mejax
Rover
Steve
Chief Mark
Officer Marvin
Officer Aaron
Officer Derek
Officer Patricia
Trivia
This is one of the very few episodes that Baby Lamb doesn't appear in, despite being the titular character.
The Episode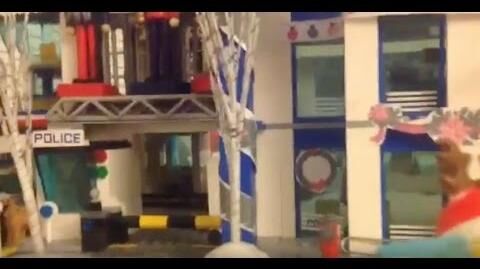 Community content is available under
CC-BY-SA
unless otherwise noted.