The Lucked-up St. Paddy's Day: Part 1 is the 9th episode of
Season 2
of
Baby Lamb & Friends
, the 40th episode overall, and also the first part of a three part St. Patrick's Day special. It was uploaded on March 17, 2017.
Summary
St. Patrick's Day is here, and Baby Lamb and Cow are excited while Ricky and Mr. Dolphin plan to capture a living leprechaun. 
Plot
It is St. Patrick's Day in Capitol City and Baby Lamb is happily walking and notices Cow. They wish each other a Happy St. Paddy's Day and Cow compliments Baby Lamb's leprechaun costume but he's actually dressed up as the wizard from The Wizard of Oz. Baby Lamb notices Cow's wearing a big, green, leprechaun hat, which to Cow means lots of luck. Baby Lamb, though, wonders why St. Patrick's Day is associated with luck while Cow thinks if you get gold, you get luck. The two then notice Ricky and Donny are setting up a leprechaun trap in an attempt to gain good luck as well as some good.
Baby Lamb and Cow are impressed that Ricky and Donny aren't giving up, but they say leprechauns have feelings, too. Ricky and Donny guess how much money a leprechaun's gold is worth. Baby Lamb is concerned if they're trying to harm a leprechaun, but they tell him that if he's unable to move then they can take it into consideration to keep the gold. But Baby Lamb asks how they would feel if they were captured and how are they're gonna trap the leprechaun. Donny says they went all out and Ricky presents a golden pot, which is really a trash can painted gold. Once the leprechaun notices it, they stuff him inside the trash can.
Alphabet Pal and Belle show up as Baby Lamb and Cow tell the girls about Ricky and Donny's leprechaun trap, leading them to ask if they ever get tired of it. They say if it means free gold, they shouldn't get tired of it. Ricky considers leprehcauns tiny, little, foolish, gullible, stupid, Irish green simpletons. Uncle Lamb, a certified supporter of the Irish, can't believe what he heard and decides to do something about it. He goes to the Unsuspecting Van, but gets into an accident. Afterwards, he puts in a call with an actual leprechaun.
Characters
Baby Lamb
Cow
Ricky Bowers
Donny Dolphin
Alphabet Pal
Belle Butterfly
Uncle Lamb
Leprechaun
Trivia
This episode introduces a brand-new 16:9 extended version of the Baby Lamb Creations logo title sequence at the beginning. 
This is the very first episode to be completely edited by iMovie for iOS. 
The title is a pun on the phrase "F***ed up". 
The Unsuspecting Van is a reference to Denzel Crocker's mode of transportation from The Fairly OddParents. 
The Episode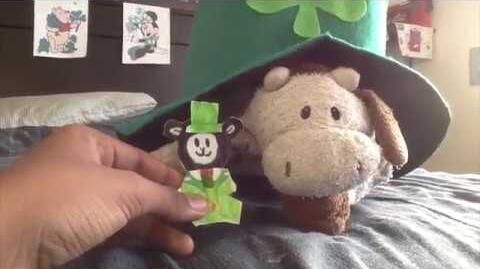 Community content is available under
CC-BY-SA
unless otherwise noted.